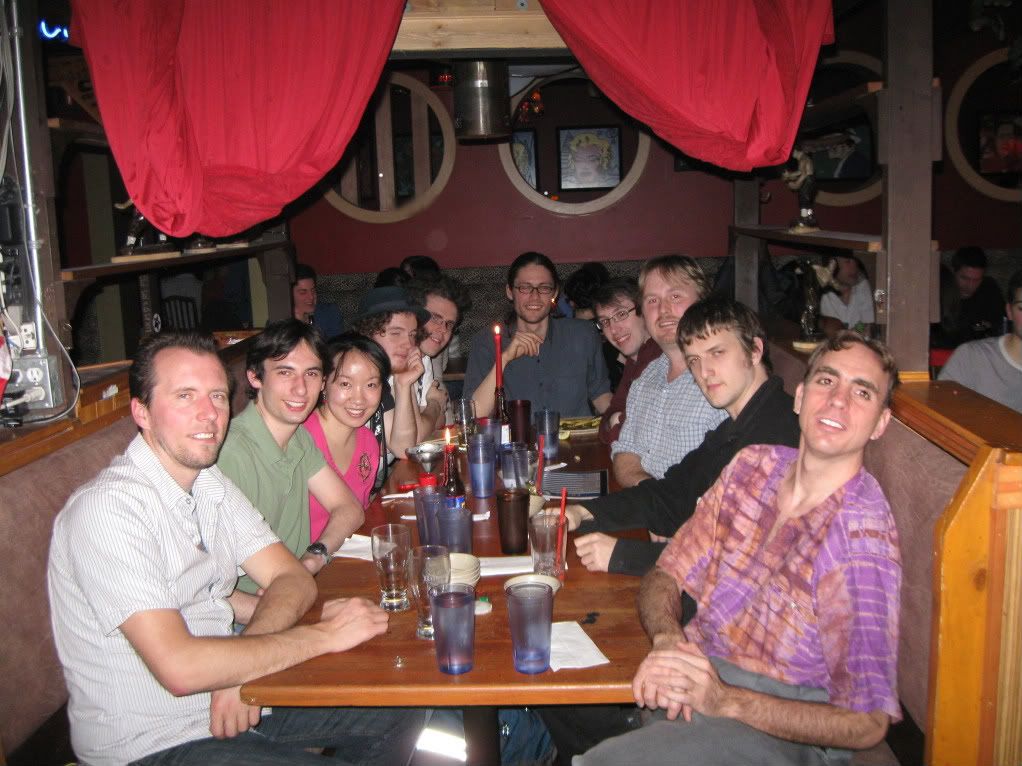 The 2010 Winter Olympics are winding down, but Vancouver's RepRappers are winding up!
Bing of the SpoolHead team organized a get-together for our city's humble hobbyist 3D printing community. It turned out to be a great success! When Bing first planned this meeting, we thought it would be five people attending. In the end it was eleven, and I know there's still many more interested Vancouverites who we haven't gotten in touch with.
Wade (front left), the source of SpoolHead's Darwin, and Enrique, author of Skeinforge (front right) are quite well-known in the RepRap community. They've been corresponding for a long time now, but this was their first chance to actually meet in person. And they both biked to the party - go green!
Behind Wade are two members of the SpoolHead team; Jacob and Bing. (Unfortunately, Mo had to leave before the photo was taken). Continuing around the back are Isaac, Arthur, and Sam, who are building a wooden Mendel RepStrap. Stuart and Rod, at the rear right, are putting together a Makerbot. Erik, next to Enrique, is a local artist who plans to start a RepRap this summer. Over sushi, we discussed our plans for the future, the various projects we're taking part in, and offered each other advice for solving RepRap-related problems.
In my opinion, meeting up with the other avid RepRappers in town is extremely helpful for the success of one's own project, and essential to the flourishing of the RepRap idea. Practically, if two groups of people in one city have RepRaps, then they can print replacement parts for each other when something breaks down, reducing the importance of keeping a full stock of parts on hand.
As a recipient of printed child parts from Wade (thanks Wade!), we're one of the few living examples of RepRap's self-replication ability. And I'd like to say, we're very grateful for it! But it wouldn't have been possible if we and Wade hadn't met each other. Meeting in person helps create a sense of trust and duty; if my parts arrived in the mail from a stranger, I might feel less motivated to put them together. And I'd definitely be more enthusiastic about printing parts for someone I've met in person, too.
The lesson? You might think you're living in a sleepy town, and you might think that nobody's heard of a 3D printer, let alone a "RepRap". But you might be wrong...